It all works out!
It all works out!
It all works out!
It all works out!
It all works out!
It all works out!
It all works out!
It all works out!
It all works out!
It all works out!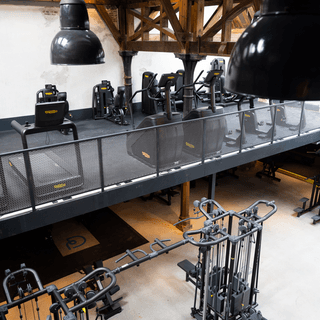 Much more than a gym
We are your next gym, your new hangout with friends, and your flexible working spot. Come and work out, relax in the sauna, or plop down on one of the comfortable sofas in our cosy lounge. Our bar serves the tastiest fresh shakes with all organic ingredients, amazing coffee from Lot61 and healthy snacks.
Double Shift offers a complete range of the latest Technogym equipment, as well as an exciting group class menu. We are located in a revamped warehouse space in the heart of Amsterdam. Fluffy towels, the best natural body and hair products, and a sparkling, spacious sauna come as standard. But there's more. Everything from art exhibitions to speaker events, dinners, cocktail evenings, and beer or wine tastings are organised for our members. Making sure you won't just turn up because you have to, but because you want to.
What makes us different
Next level fitness facilities
Our gym is decked out with the very latest in Technogym equipment for weight training and cardio. Plenty of machines, lots of light and space. Or choose from an array of inspiring group classes aimed at various fitness levels.
Spacious lounge for chilling out or working
Enjoy our cosy club lounge with comfortable sofas and good lighting. There's plenty of space to hang out before or after a workout, so grab a coffee or a quick bite, and get some work done if you like. Reliable high-speed fibre-op internet is on the house.
Juice & coffee bar
Custom-made smoothies, protein shakes, healthy snacks and some of the best coffee in town are served throughout the day.
Sauna & Massage
Unwind in our beautiful, spacious sauna, or enjoy a specialised massage by Tension Tamers.